Guys, my name is Joe Scott, and I am the news director for an indie college radio station in NC (www.wuag.net). This Thursday we will be hosting a one-night only screening of the rock 'n roll documentary "DERAILROADED: INSIDE THE LIFE AND MIND OF 'WILD MAN' LARRY FISCHER."

This screening is a rare opportunity for North Carolinians because we are getting the chance to screen a movie before it has even been released. I have talked to other indie filmmakers who are say they would definitely be interested in following suit with their films if this screening is a smash.

Let's make North Carolina cool guys. Check this movie out. Click the cut below to find out more information about the film and the screening.


CLICK THE POSTER TO SEE THE TRAILER!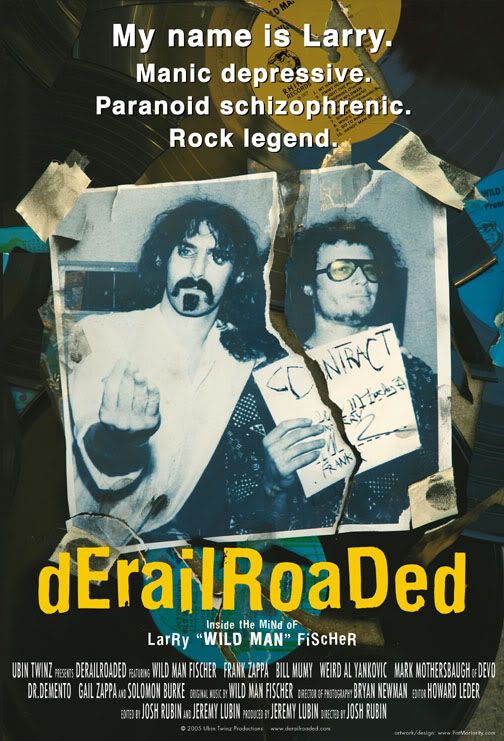 Indie Documtary to Premeire on UNCG Campus
"Under the Radar" film series presents the independent documentary "Derailroaded" September 1 at 8p.m. in the auditorium of the New Science Building near the corner of McIver St. and Carr St.

This screening will be the east coast premiere of the film directed by Josh Rubin. "Derailroaded" focuses on the life of troubled outsider musician Larry "Wild Man" Fischer. Fischer is a paranoid-schizophrenic with limited vocal talent who did not allow his shortcomings to stop him from achieving celebrity.
"Derailroaded" follows Fischer's rough childhood on the mean streets of L.A. to his success as a tortured genius. The documentary features interviews with Frank Zappa, Weird Al Yankovic, and Devo's Mark Mathersbaugh.
The Under the Radar film series is hosted by WUAG 103.1 Greensboro, UNCG's official college radio station. The goal of the film series is to showcase 'truly' independent cinema related to music.
Tickets go on sell the night of the screening. A donation of $2 is encouraged. Free parking will be available on Tate St.
For more information on the screening, contact Joe Scott at (336) 334-5588 or at jbscott@uncg.edu. To learn more about "Derailroaded," visit the film's website at www.derailroaded.com.